HAREM HORROR HELL: RUTHLESS TRAINING by PREDONDO - POSTED!!!
Find this out of this world comic at...
http://www.dofantasy.com/english/USAFC3 ... aining.htm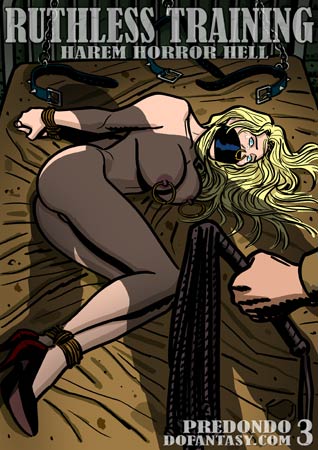 Extreme dialogs by SANDOW.
RUTHLESS TRAINING is the latest addition to HAREM HORROR HELL saga, the extremely hot DOFANTASY series in the tradition of legendary artist Templeton.
Do you think life in a middle east harem is all silken pillows and perfumes? Join PREDONDO as he takes you on a journey to a world of sadistic pleasures and shocking humiliations you've never imagined!
In these backward palaces, the only thing worse than being a woman is being a woman slave! The ruling family shows no mercy as they bring helpless, white women to their breaking point!
A spurned royal prince takes his vengeance on Olivia, the popular American girl who spurned him.... She and her sexy mom land in his harem of helpless bound beauties!
Saying "no" to this depraved foreign prince is the worst mistake a buxom blond can make!
All this and more from the skilled and amazing artist PREDONDO, one of the most popular DOFAN artists! PREDONDO hasn't failed to deliver some shocking, exciting, and utterly outrageous material, and this is the latest and greatest of this thrilling and amazing series: HAREM HORROR HELL!
New characters arrive to rattle the cages, and old ones return for our own entertainment!
This is definitely not a comic you'll want to miss.
Only DOFANTASY.com can provide something of this incredible quality and horrifying depravity!

The master artist and powerhouse talent brings all his skill to bear in this latest comic from DOFANTASY!
NOT TO MISS - SOMETHING VERY SPECIAL