RUSSIAN WIFE - THE TRAINING BY VIKTOR POSTED!!!!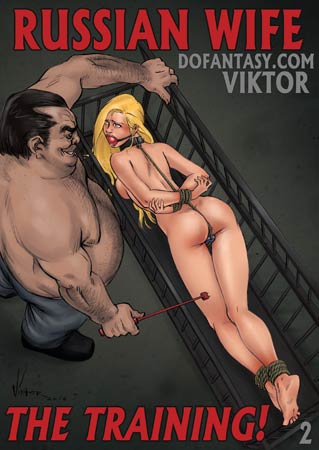 The long awaited part 2 of acclaimed RUSSIAN WIFE is here!
Natasha dreamed of glory, fame, fortune, and the beaches of California! Oooh, the boys looked soooo dreamy over the television!
But how to get there?
Those dating sites were everywhere on the Internet, and it'd be MUCH easier for her to find some stupid, American loser....
She'd just find some fat, desperate slob who wanted a beautiful, Russian bride. He'd pay for everything, and once she got there and became married, she'd dump and divorce him before the day was over, much less before he got any bright ideas.
It seemed like the perfect plan. What could possibly go wrong?
You can find this fantastic comic at:

http://www.dofantasy.com/english/USAFC337HHSNewMistress.htm
A more explicit review will be posted tomorrow at BDSMartwork.com (protected site) at
http://www.bdsmartwork.com/home.htm
A STEAMING STORY OF A GIRL CAUGHT IN AN INESCAPABLE TRAP. FAR AWAY FROM HER HOME AND FAMILY SHE'S AT THE MERCY OF HER SADISTIC CAPTORS... NOT TO BE MISSED!